10-year-old Naina creates academic history
Ten-year-old Naina is making a history at a tender age. She is the youngest girl to ever write the Intermediate or plus two examination in Andhra Pradesh. A student of the Arts stream at St Mary's Junior college in Hyderabad, Naina is one of nearly 18 lakh students who are sitting for the First and Second year Intermediate examinations across the state.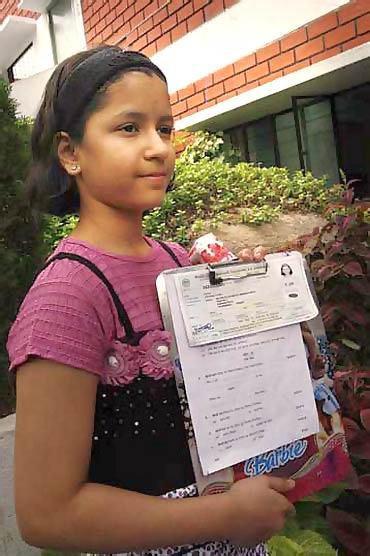 The state government granted special permission allowing her to appear for the exam as a special case in view of her extraordinary talent. According to Naina, she was helped by member of Lok Sabha from Secunderabad Anjan Kumar Yadav in obtaining the permission.
Naina, who is writing her exams at the Sultanul Uloom Junior college, has become the centre of attention as she walks coolly and confidently in to the examination hall every day to take the exam.
Daughter of teacher Ashwini Kumar, Naina has already proved her talent when she achieved the rare distinction of clearing the secondary school examination at the age of eight. She passed the General Certificate of Secondary Education Examination or "O" level of Cambridge University with distinction.
Her proud father says that she had an inborn talent which he had spotted at the age of five when she used to memorise difficult words with ease and had also memorised slokas of the Geeta, which she later recorded as a song for an album.
Ashwini Kumar says that Naina was no different from other kids because every child is blessed with extraordinary talents. "It is the duty of the parents to discover the talent and teach them and help them in realising their true potential".
Naina was fortunate in the sense that she was born to a teacher who taught her English, Hindi and Telugu at a very young age and that became a ladder for her to scale new heights in studying and understanding different subjects.
"I used to just explain various subjects to her and she used to write in her own simple language. We never had to force her to study", he says.
Interestingly, in an age when most of the students dream to become either engineers or doctors or pursue management courses, Naina has opted to study Arts subjects like civic and economics. "My aim is to become an IAS officer and serve my country," she says.
Another dream is to play table tennis at Olympics . She has already represented the state at the national level.
Though brilliant in studies, she is no bookworm. "I give equal time to both studies and entertainment." Apart from the game of table tennis, she is also interested in music and can play the mouth organ and piano. Her other hobby is to write using both her hands!
Source : Rediff