5 qualities that make an effective leader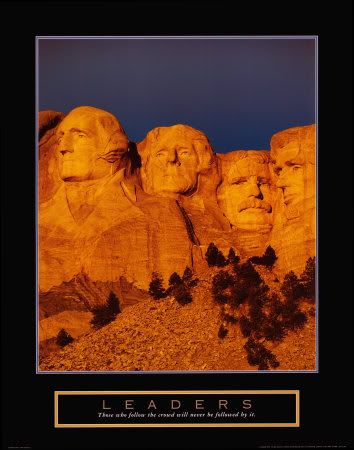 Watching leaders and understanding who they are and developing them to the next level has been my job since graduating from IIM Ahmedabad. It is quite interesting to watch what makes a perfect leader.
It is researched that many elements put together in the right way can make a leader. However, it is also this individual who has the right qualities in the right place at the right time that makes all the difference. I had some very interesting encounters with some of the best people in the industry and glimpses of their unique characteristics that made them what they are. Here are some of the crucial aspects to being an effective leader:
Leaders are ambitious
Ambition is the single word that would make individuals exciting and passionate. Ambition coupled with a great vision can make individuals great leaders who build great organisations or institutions. Today I am working with an entrepreneur who has a great ambition to make himself and his organisation big. D Ravikumar who is the MD and chairman of Acropetal Technologies, and has built the organisation through sheer ambition and hardwork. As he himself puts it, 'I get inspired by an Azim Premji or a GVK Reddy, because of the way they have reached to the top and still aspire to be better'.
If there is one thing that can sustain over time, it is the ambition to reach the next level. As a leadership expert commented, "the moment you feel you have reached, be ready to climb down a few notches!".
If you think that anybody who has money or power can sustain being a leader, it would be only through the support of a very strong team beahind them and not their efforts alone. It is a crucial aspect of sustained leadership to recognise what is needed and act on it. I remember a professor, commenting on the ability of Mata Amritananda Mayi, as she / her congregation have built well-known institutes, she also happens to be the chancellor of the group of institutions.
In one of the review meetings a senior professor was amazed by her ability to ask the right questions. 'What is the student to faculty ratio? How much is spent on research? What is the number of research papers in international journals?" Quite amazing since it has come from an individual who herself is not a graduate!
Leaders put exceptional effort in studying matters with a holistic approach and get to the crux.
It is the exceptional ability of leaders to absorb challenges that makes the team to move with them. They manage uncertainties of situation, can make decisions at tough times, are not perturbed during challenging moments and support people with a calm and cool mind.
I have come across Arvind Agrawal, who is the president HR of RPG Group as a great example. Even under tough situations he could absorb challenges and make the situation look good. Mostly these people remind us of Rajnikant in his super-hit movies. A cool leader has immense capacity of take up challenges yet stay visibly cool and composed.
Leaders should focus on a clear larger purpose both internally to themselves and externally to the organisation and larger society. I remember meeting Narayana Murthy at IIM Ahmedabad Convocation of 2007, when he was the chairman of the institute. The way he could connect with students and parents who were interacting with him showed
the clarity of the person in terms the message he wanted to convey. Middle-class ethos, global view, creating a sense of achievement, and integrity was communicated in each of the conversations.
I remember having a similar interaction with Prof Pankaj Chandra, director at IIM Bangalore. The theme of the conversation was always forward looking and modern; imbibing the new and managing change for betterment that is inline with modern thinking.
I strongly believe that a person's value focus both in terms of morals and future value that can be created is what can bring people together to their thoughts and actions.
Strong value focus, ability to absorb challenges, ambition that people can connect with, and a strong sense of understanding is what can pull followers to an effective leader. However, it is effective messaging to followers that can make others listen to them adn work with them.
I remember attending to a talk by Ginny Rometty, senior vice president, IBM Global Sales and Distribution. The aura that she created, the constant messaging that gave the same value proposition, and a compelling reason to talk made the audience take an interest in what she had to say. However, what makes a whole complex organisation like IBM follow her sales thoughts and strategy is clarity in terms of what she puts forth as an ambitious direction to the company, integrating the organisation as one global integrated enterprise.
A real challenge for an individual to take up is to articulate and convey the purpose with clarity. Leaders constantly use
multiple channels to communicate what is required to the audience and that is what matters in the end, whether followers are created or not. It is this brand of an individual, for instance 'A youthful, forward-looking Rahul Gandhi', 'Industrial architect Ratan Tata', 'Creative genius A R Rahman' — that everybody strives to achieve through consistent thoughts and messaging.
Dr Sandeep K Krishnan, is a Fellow of Indian Institute of Management Ahmedabad and engineer by profession. He has worked with RPG Group, IBM India, and Ernst and Young prior to joining Acropetal Technologies as vice president HR & Corporate Development. He has executed and consulted on leadership development strategies and has closely worked with business heads in the areas of talent management, performance management, and organisation development.
Source : Rediff