Antilia, the world's most expensive home on Mumbai's Altamount Road
Antilia, the world's most expensive home on Mumbai's Altamount Road, is ready to welcome its occupants.
This Diwali, Reliance Industries Ltd chairman Mukesh Ambani and family will move into their new home, according to a report in The Economic Times.
Built at a whopping cost of about $2 billion (figures vary wildly from $1 billion to over $2 billion), the building is spread across 400,000 square feet and has 3 helipads on the top.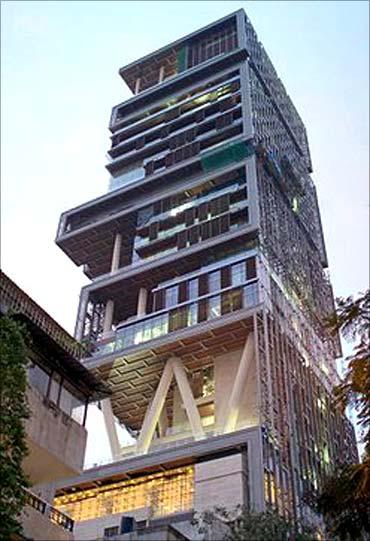 Each floor is double the average height. Three floors of gardens adorn this building. Though the building is 570 feet high, it will have only 27 floors.
The first 6 levels are reserved for car parking, with the facility to park 160 cars.
The house has been designed after consultation with architecture firms Perkins and Will & Hirsch Bedner Associates based in Dallas and Los Angeles.
No floors in their home are alike. Each floor has a different layout, material and design.
The house also boasts of a large ballroom with its ceiling decked up with crystal chandeliers.
Atop the parking lot begins the living space with nine elevators in their lobby. The house also boasts of a silver coloured railing large ballroom with 80 per cent of its ceiling covered with crystal chandeliers.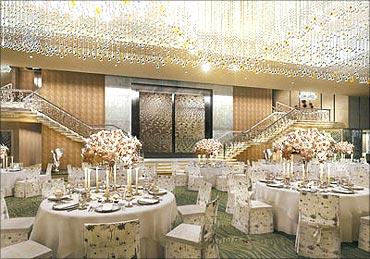 The odd shape of the structure is in adherence to Vaastu. The lobby has access to the home with nine plush elevators.
The building has amenities like a health spa, and small theatre with a seating capacity for 50 on the eighth floor.
The 570-foot tall mostly glass, the tower has 600 staff to handle the chores. There is a crystal chandelier in the ballroom ceiling.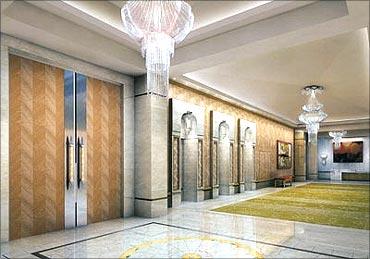 Other features include multiple swimming pools. The skyscraper has a floor for vehicle maintenance. The house is built with unique materials from sourced from around the world.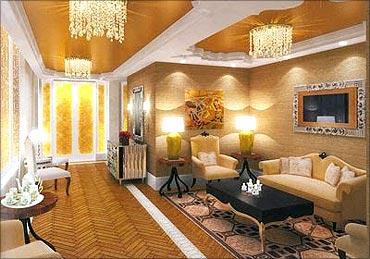 The top four floors are designed for the Ambani family and mother Kokilaben.
The house also features retractable showcases for artwork and entertainment stages.
Reliance Industries chairman Mukesh Ambani is the richest man in India with $27 billion in net worth.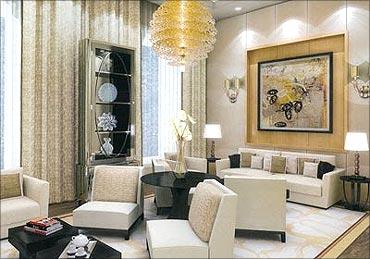 Source : Rediff