Leaders are readers. Are YOU?
Arun is a successful young manager with a large company in Gurgaon. He started his career as a salesman, and has rapidly grown in the organisation. He is married, and lists down 'watching TV and reading books' amongst his hobbies.
"Unfortunately," says Arun, "my hectic work schedule leaves me with practically no time at all for reading!"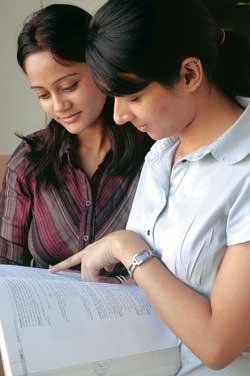 Krutika, a young graduate who works with a BPO in Mumbai is preparing for her forthcoming MBA entrance exams. She is working hard at improving her English skills.
Everyday, you will find her in the train on her way to work, reading her flashcards, trying to improve her vocabulary in the next 30 days — even as her iPod blasts the latest hits into her ears. She knows the lyrics of these songs by heart –it's just those words on the flashcards that are the problem. "I have never even heard of these words!" she sighs.
Are we literate illitrates?
Arun and Krutika may be living in two different cities, but they share one thing in common. They are NOT readers! Somewhere along the way, they have lost the reading habit. It has rightly been said that there is very little difference between an illiterate person — who cannot read — and a literate person who does not read. Time to ask yourself the question: are you one of those literate illiterates, too?
Every book makes you grow taller
If you want to take a simple step towards expanding your mind and improving your life, start reading. A book can change your life. It allows you to peep into some of the finest minds in the world.
Reading a book is like having a conversation with the author, listening to his stories and learning from his experiences. You can get ideas, inspiration and insights — all from a book! Every book you read becomes a layer of knowledge you can stand on.
And every book makes you grow taller, just a little bit. So, remember, in the supermarket of life, the best things are always stacked on the upper shelves. If you are not a reader, you may never be able to reach them.
Half an hour a day, 26 books a year!
If you look around, you will find that most successful people are readers. Visit their offices, and you will find books strewn around. Visit their homes, and you will find a well-stocked book shelf. So take a leaf out of their books. Start reading.
If you read for just half an hour every day, you could finish a 250-page book in just two weeks' time. That's 26 books in a year. A hundred books in the next four years. That's more than most Indians read in a lifetime. Just think. What difference would that make to the quality of your mind, your career, your life? Just 30 minutes a day can do the trick, so stop making excuses about not having the time to read.
And learn to read with a pencil. Make notes. Scribble on the margins. Underline important stuff. That way, you'll get the full benefit of what you are reading. Twenty years ago, I had a colleague, a fellow sales manager in India's [ Images ] most respected FMCG company. He was a voracious reader — still is — and every book he read was filled with scribbles. That's not just an interesting little trait of an interesting guy. It's a habit of a man who is today the CEO of the largest MNC in India.
Books are the best investment you can make. And worth every rupee you spend. So, do yourself a favour. READ. Sacrifice that serial on TV or that gossip session with a friend if need be. American comedian and film star Groucho Marx was right. He once remarked that he found television very educating. He said, "Every time someone switches on the TV, I walk into another room and start reading a good book!"
Get the Groucho habit. Pick up a book. Today!
Source : Careers 360.com

Careers360 is a complete education and career magazine offering campus and course reviews, career features, scholarships, expert advisories, entrance exam preparation & solved papers, admission alerts and more.