Singapore, formally the Republic of Singapore, is an island city-state and the smallest country in Southeast Asia. It is located on the southern tip of the Malay Peninsula, south of the Malaysian state of Johor, and north of the Indonesian Riau Islands. It lies just 137 kilometres (85 miles) north of the Equator.
The name Singapore is derived from the Malay words singa (lion) and pura (city), which were themselves derived from the Sanskrit words ???? siMha and ??? pura. Hence, Singapore is also known as the Lion City.
Singapore consists of 63 islands, including the main island itself. There are two connections from Singapore to the Malaysian state of Johor — a man-made causeway known as the Johor-Singapore Causeway to the north, crossing the Tebrau Straits, and Tuas Second Link, a bridge in the western part of Singapore that connects to Johor. Jurong Island, Pulau Tekong, Pulau Ubin and Sentosa are the largest of Singapore's many smaller islands. The highest point of Singapore is Bukit Timah Hill, with a height of 166 metres (538 ft).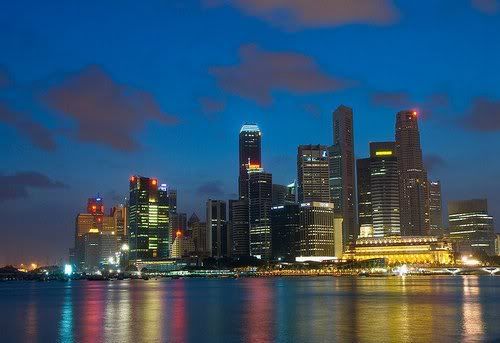 Night view of Singapore
Raffles City Shopping Mall