The many health benefits of Aloe vera
In addition to its use in skincare products, here are a few more healthcare advantages the aloe vera plant offers.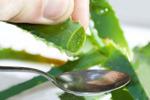 Aloe vera has the reputation of being a wonder plant with wide-ranging therapeutic properties. Here are some of the great health benefits it confers:
Soothes skin: The plant has healing, antibacterial and moisturising properties that soothe the skin. This is why it is frequently used in cosmetics, including sunscreens, creams, lotions and facial washes.
Heals wounds: Aloe vera has antibacterial, antifungal and analgesic properties. The sap, when applied directly, helps close wounds faster. Not just that, it is believed to reduce the ungainly scars that often remain after wounds have healed.
Aids digestion: Pure aloe vera, when ingested orally, soothes the digestive tract. It is also said to improve absorption of food by the small intestines. The enzymes present in aloe extract also aid digestion. Preliminary studies suggest that intake of aloe vera gel may reduce inflammation and other symptoms in patients with ulcerative colitis.
Arrests cancer: While research has not yet conclusively established this, aloe vera is believed to have anti-carcinogenic properties that may help to inhibit the growth of cancer cells. Some studies suggest that components of aloe can inhibit tumour growth.
Fights diabetes: Intake of aloe vera has been linked with improved blood glucose levels in type 2 diabetics. It eases the side effects of increased sugar levels and accounts for an enhanced immune system.
Promotes tissue growth: Aloe vera is believed to support the growth of healthy tissues in the body. It contains 20 of the 22 known amino acids that are used by the body in the production of cells and tissues.
Relieves pain: Aloe vera has a cooling effect on sun-burnt skin and is often used to heal minor burns. It is
also claimed to reduce arthritis swelling, thus bringing relief to sufferers.
Promotes general health: Aloe vera is believed to eliminate toxins from the body. This strengthens the immune system and boosts energy levels. It is rich in antioxidants such as vitamins A, C and E, which keep the body healthy and slow down aging. Research shows that its oral intake also substantially increases the absorption of vitamins C and B12.
How to use
To use aloe vera topically, slice a leaf to squeeze out the gel. Apply this directly on cuts, wounds or burns. For swellings, you can place a leaf in warm water then apply it directly on the affected part.
For gastrointestinal disorders, placing a peeled leaf in water for four-five hours and then drinking it is supposed to be beneficial. Boiling this water and drinking the brew is believed to lower cholesterol levels and help in diabetes.
Blending aloe vera gel in a blender and drinking it once or twice a week is believed to cleanse the blood.