The world's first Islamic search engine
Image: The ImHalal.com search web site.
Across the world, Muslims can now safely surf the Internet without having to face the embarrassment of bumping into explicit or sexual content.
AZS Media Group, a Dutch company on September 1 launched the world's first Islamic search engine — ImHalal.com — that differentiates what material is 'halal' (allowed) and what is 'haram' (forbidden) in Islam.
"We got the idea to develop ImHalal.com about nine months ago," says Reza Abdolali Zadeh Sardeha, who is the chief executive officer of ImHalal.com and founder of the Amsterdam-based AZS Media Group, in an email interaction with rediff.com.
"In a group of four, we were talking about search engines like Google and that once in a while we accidentally bumped into explicit material. We then brainstormed and about seven months ago, we began the actual development of the search engine. Seven months later the search engine was done," adds 20-year-old Sardeha, an Iranian-Kuwaiti student who was five when his family settled down in The Netherlands.
The advice of Islamic scholars too was taken into account while building the search engine.
This is how the search on ImHalal.com works: The search engine only fetches results that are flagged as to be halal.
The search engine uses various techniques to determine which results fetched are supposed to be halal or haram. Once a user comes in contact with content of explicit nature, the search engine will return a negative search advice.
When you look for something through the ImHalal.com search engine, you get results like on any other search site. But if your key words are a part of the 'danger list' specified by the developers of ImHalal.com, then your search gets a rating of one or two on the 'haram scale'. The message that you see is: 'Oops! Your search inquiry has a Haram level of 2 out of 3. This means that the results fetched by ImHalal.com could be haram!'
As a user you can still decide to go through with the risk and click to see the results.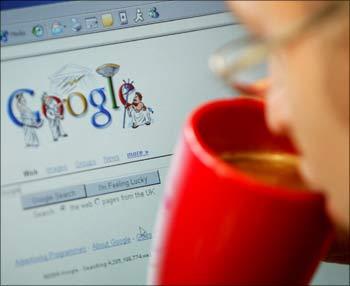 Image: An internet surfer views the Google home page at a cafe in London.
However, if your search is ranked three, then you get zero results. All you get is the communication: 'Oops! Your search inquiry has a Haram level of 3 out of 3! I would like to advise you to change your search terms and try again.'
The danger list, the filter, has been compiled by the developers based on their experience and the time they spent trawling through the Internet putting together explicit content that is considered haram.
In the last few years, Muslims have become very active on the Internet, but a lack of tools for Muslims to be able to continue their online activities responsibly, says ImHalal.com on the web site.
Sardeha accepts that the Internet is a seamless global network without any religious, geographical or political boundaries, and says, "Actually we also believe in a free-of-censorship Internet, but our intentions are to create a safe atmosphere for Muslims to be able to explore the world wide web without accidentally bumping into content which is flagged to be haram in Islam."
With netizens debating whether this amounts to censorship, Sardeha says that the Internet is a free world where the users can exercise the freedom of choice. If the ImHalal search results are too restrictive for some users, they could try to use another search engine.
The ImHalal.com founder believes that people of other religions and ethnicities too could gravitate to the search engine as it offers clean information and parents need not worry about what their children could find while accessing content through this site.
This is one of the reasons why many Muslims do not allow their children to surf the Internet and, indeed, themselves avoid the world wide web.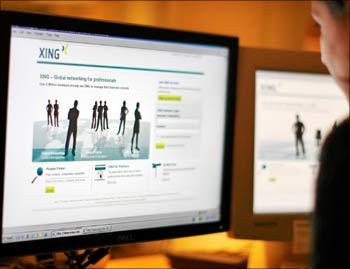 Image: A web-user views a global networking site called Xing in Stockholm.
"People of other ethnicities and religions are more than welcome to use our search engine since there are absolutely no restrictions on religious and or political grounds. The search engine is also very child-friendly," says Sardeha.
Emphasising that ImHalal.com is a social site, Sardeha states that the search engine has received a huge amount of positive feedback for its efforts.
"At ImHalal.com we also don't believe in dictatorship, so we allow our users to open discussions about whether a search term should be filtered or not," he adds.
The search engine is still work-in-progress and would be refined as time goes by, based on new learning, user feedback, et cetera. "We will fine-tune our filter according to the interest of our users," says Sardeha.
Stating that ImHalal.com is "not competing with search giants like Google", Sardeha says: "We see ourselves more like a niche search engine which has specialized itself to fulfill the needs and demands of our niche target group."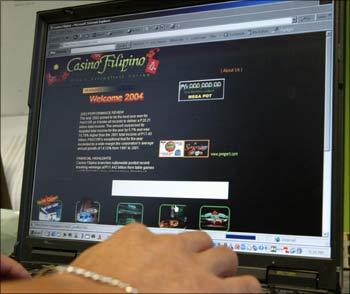 Image: An employee of Philippine casino operator surfs the Internet.
Photographs: Romeo Ranoco/Reuters
ImHalal.com allows users to use any of the 15 languages that it has been designed to handle, including Arabic, English, Chinese, Farsi, Turkish, and German. However, AZS Media Group feels that most of its users are likely to come from West Asia.
"Our future plans are very ambitious. We have planned to roll out more services and products, like Islamic widgets."
A typical widget for prayer timings would alert users to the five namaz timings that are calculated using a complicated formula that takes into account the user's location, angle of the Sun, etc.
"Other widgets will include a daily news feeds, a daily quote from the Quran, etc. We want to make ImHalal.com the homepage in every single Muslim household," he adds.
The company is not funded by any other entity. The whole site has been fully financed by Sardeha himself.
Source :