The world's top 10 beach escapes
Which are the most popular seaside destinations across the globe? We offer you a compilation of the top ten.
If you want to relax by the surf this summer, here is a list of the world's best beaches, compiled on the basis of customer experience and popularity as destination getaways.
1. Antigua — A beach a day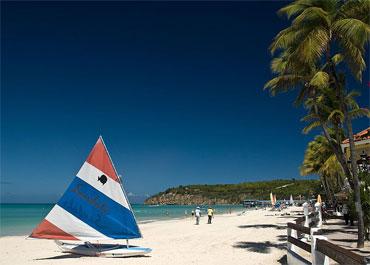 Photographs: Paul Kowalow/Wikimedia Commons
Some say if you've seen one beach, you seen them all — they have obviously never been to Antigua. The island has 365 unique beaches, of which Dickenson Bay, in the northwest corner of the island, and Half Moon Bay, along the eastern coast, have been voted to be the best.
But it's not all just beaches here; Antigua is also home to hundreds of stone windmills, bars, shops and restaurants, which make it an ideal place to just laze. If sloth is not one of your vices, enjoy the island's warm, steady winds, a complex coastline and a nearly unbroken wall of coral reef — the elements make Antigua an ideal spot for snorkeling, sea diving and surfing.
Sailing, snorkeling, scuba diving or just plain lounging, whatever your heart desires — the compass always points to Antigua.
Tip: One of the biggest maritime events — The Sailing Week — is held here too. It is one of the top five regattas in the world and the biggest in the Caribbean. Don't miss this one.
2. Palawan – The not-so-lonely island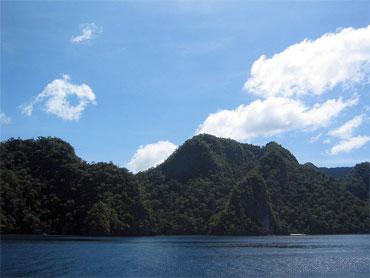 Photographs: Moody75/ Wikimedia Commons
Ever wanted to play Robinson Crusoe and have an entire island to yourself, just for a few days? Well, at Palawan you can do just that.
Often described as Philippines' last frontier, the Palawan archipelago is a masterpiece of nature. The limestone landscape is coloured in with tropical rainforests, underground rivers, rocky coves and sugar-white sandy beaches.
Beaches like Honda Bay, Cannon Island, Bat Island, Starfish Island offer pleasures like snorkeling, scuba diving and wildlife walks, while areas like Pandan and Meara Marina appeal to those with more reclusive tastes.
If you don't know what to choose, simply choose a boat and go island hopping — it's highly unlikely you will get stuck in a sea jam here.
Tip: If it's wildlife that excites you, take a dive into the Tubbataha Reef — a protected marine sanctuary, the atoll is home to over a thousand species of marine life, including endangered ones like manta rays, lionfish and more.
3. Havelock Island – Hobnobbing with dolphins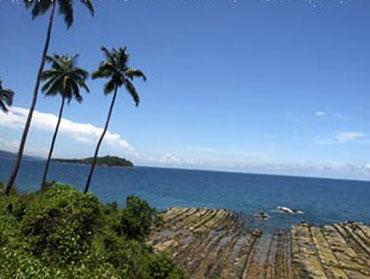 Photographs: Shifra Menezes
Imagine living in an underwater world, the architecture created of coral reefs, dolphins and turtles as neighbours — albeit living in this world is not possible, you can pay a short visit.
The Havelock Island lies 55 kms northeast of Port Blair — a serene, sandy stretch of land surrounded by crystal clear water. Home to some of the most interesting coral reefs in the world, Havelock island offers fabulous snorkeling opportunities where you can mingle with sea-life; dolphins, turtles and of course a multitude of colourful fish.
Rated as the best beach in Asia by Time magazine in 2004, Radhanagar creates a picture perfect image of white sands and blue seas with a green background of deep forests.
Getting around is not a problem — simply hop on a bicycle or scooter. If you fancy, you can always ask one of the friendly dolphins for a lift!
Tip: Interestingly, villages here are nameless; in fact, they are known by numbers. So while the jetty is at Village #1, to shop you have to pay a visit to Village #3, while Village #7 offers a great swimming hole in the form of the Radhanagar Beach.
4. Phuket – A paradoxical holiday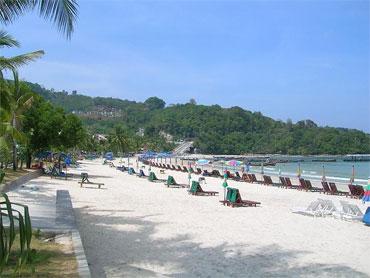 Photographs: Wikimedia Commons
If you have always wanted both a serene and a hectic getaway, then Phuket is the perfect destination for you.
The island offers the best of both worlds. Patong calls to the party animals while the north seduces with its serenity.
By day, Patong entertains with activities like scuba diving, snorkeling and surfing; at night the town bustles with activity as the crowd visits hundreds of restaurants, chic lounge bars, beer bars and of course, discos.
The other side beckons with near-deserted beaches and hidden beaches like Laem Singh. By day and night the beaches up north offer serenity on a platter — the great food serves as a side dish!
Tip: Although many Thai people in Phuket speak some English, being able to speak a few words in Thai will help smooth the way and maximise your enjoyment.
5. Palolem – Paradise is here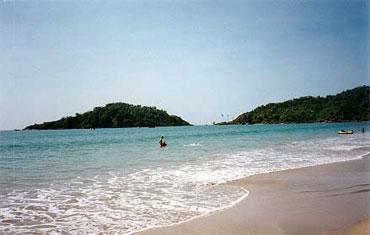 Photographs: Rajmohan
A long stretch of white, surrounded by various shades of blue and speckled with green — that's Palolem, the place its natives call Paradise Beach.
Since you stay at the shacks on the beach, you wake up to the sounds of the gulls and sleep to the sounds of the waves. The time between the two can be spent in a multitude of activities.
Take a boat and go spot the dolphins, or take a plunge and swim in some of the most serene waters on this coast. If you are looking for a more rigorous activity, strap on a helmet and go kayaking. Relax with some great food and then take a relaxing sun bath. As the sun sets, the beach lights up as stars twinkle above and the candles flicker in the shacks.
Now look up and sigh — if this is not paradise, then what is?
Tip: The feature at Palolem is the temporary coco huts, which line the beach from October-end to May. Plenty of options are available from budget to high-end huts.
6. Fiji – A beach nation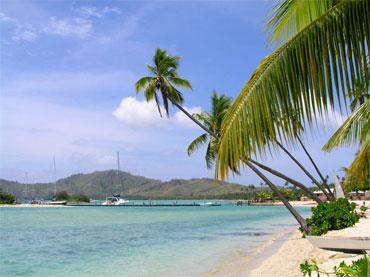 Photographs: Heinz Albers/Wikimedia Commons
Fiji is a nation of islands. Countless beaches, sea and sand are synonymous with this country. There is no dearth of beaches here — the problem lies in figuring out which beach to leave out!
Most of the islands in Fiji are surrounded by coral reefs, providing unlimited opportunities for snorkeling and deep sea diving. Fiji is identified by the picture of blue lagoons, lapping on coral sands with an outline of swaying coconut palms.
Describing Fiji's different beaches would take volumes, so it would suffice to say that each island is more beautiful than the other. Explore them all to take your pick!
Tip: Be sure to visit the most popular beaches of Fiji, which include the Castaway Island for swimming, Malolo Island for the best beach bars, Turtle Island for private beach picnics, Honeymoon Beach and many more.
7. Varkala – Sounds of harmony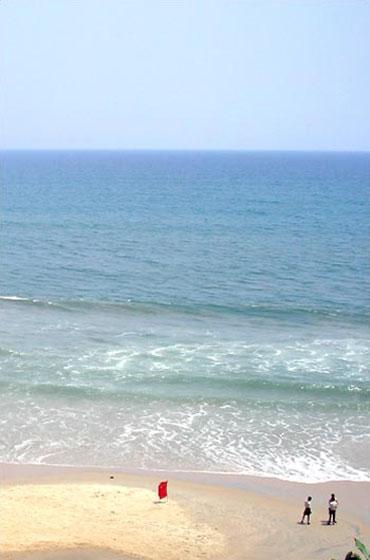 Photographs: Tanya Munshi
Sunsets are special at Varkala. Forty-two kms away from Thiruvanathapuram, it is the kind of place poets visit for inspiration.
The coastline, surrounded by hills, creates a harmonious setting for those yearning to escape the ravage of urban life. The water gushing from the hilltops is the purest form of mineral water and is said to have medicinal properties.
An exotic mix of different cultures, spiritualism and religious elements, Varkala appeals to one and all. The 800-year-old Janardhana temple adds to the grandeur of the city.
If it's peace and serenity you seek, Varkala is the place to head to.
Tip: An important thing to keep in mind is the interesting tide pattern at Varkala. This sees Papanasam Beach completely immersed in the ocean during the monsoon season, while the black beach is accessible. After the monsoon, this trend reverses, with the black beach becoming engulfed in water and Papanasam Beach open.
8. Kapalua – Heaven on earth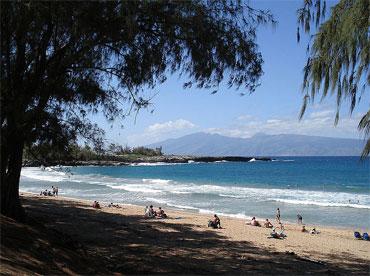 Photographs: KasugaHuang/Wikimedia Commons
The title 'Another day in paradise' could well be applied to Kapalua. Golden sands, swaying palms, calm waters… can paradise be any better?
The beach is known for its tranquil surf — perfect for families and the not-so-adventurous at heart.
The Kapalua landscape is identical to all Maui's beaches — white sand, crystal-blue waters and a gentle breeze. The small coral reefs surrounding the beach make it an ideal spot for snorkeling and body surfing.
Kapalua is a world in itself, one you'll never want to leave.
Tip: The beach is only minutes from the historic whaling port of Lahaina; as a result one can often spot whales here, specially in winter.
9. Mykonos – One big beach party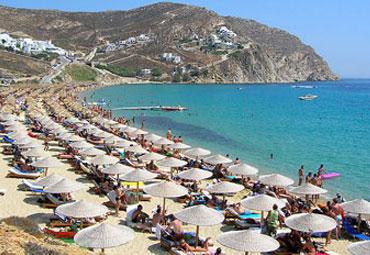 Photographs: Magnus Manske/Wikimedia Commons
Mykonos can be called the Colossus of beach parties.
This paradise beach is the most beautiful of the land, renowned for its parties and beauty alike. It is famous for its lively bars, young crowd and dazzling parties and being a flat beach, it is also ideal for water sports. But the high spot is definitely the innumerous bars. The most famous of these is the Cavo Paradiso — a lavish club complete with a pool, restaurant and a beach bar.
The serene beach transforms itself into a party zone at night with twinkling lights, music and the soft sand as the dance floor.
The party here never ends!
Tip: Delos, an island close to Mykonos is famous for its ancient temples. Delos was the most important Pan-Hellenic sanctuary, and, according to mythology it was the birth-place of Apollo and Artemis. Daily excursions can be booked in Mykonos.
10. Mauritius – Experience to believe!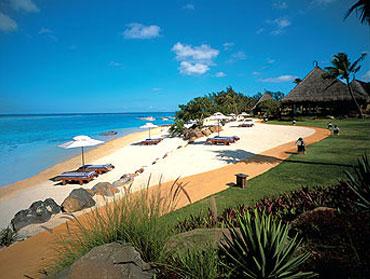 Photographs: Redff Archives
The island of Mauritius is like a jewel floating on emerald-blue water.
The spectacular beaches of Mauritius are among the most treasured and unsurpassed anywhere else in the world. Every inch of this heavenly isle is steeped in beauty. While the North and West coasts please with beautiful beaches, the South coast is surrounded by cliffs adding a raw, rustic touch to the landscape.
White sands, blue lagoons, rugged cliffs, the call of exotic birds and the view of resplendent sunsets… there's a lot more to Mauritius. Mauritius' almost year-round sunny weather, coupled with its sparkling blue sea waters make the island a perfect get-away for water sport enthusiasts.
There are no words to describe the beauty of Mauritius; after all, some things can be believed only when they are experienced and Mauritius is one of them.
Tip: Mauritius is an island of contrasts and there is much more to the country than lovely beaches. The interior of the country is strewn with natural and architectural treasures. Mauritius also has rare plant and animal species and majestic mountains and forested areas, creating an ecological wonderland full of pleasurable experiences.
Source : Travelocity / Rediff