10 Watches More Expensive Than A Ferrari
Let's be realistic here, the economy is in the crapper and your 401k looks about as arousing as you do after a cold shower. What's a Burgundy drinking, 'stache rocking, web surfing Internet denizen like you to do? Diversify your skill set by ogling watches you'll never be able to afford and learning what makes them tick.
Most of these watches are more complicated than college calculus and have more history than you could learn in a lifetime. You might even need an engineering degree and an instructional tome to figure out how they work.  Regardless, all these watches (for one reason or another) are ridiculously cool and absurdly expensive. Sell the Ferrari, liquidate the stocks, and pick up one of these bad-ass timekeeping devices.
Buying this watch would require selling 3.5 Bugatti Veyrons, which happens to be 70% of the total number they sold in 2005. The closest most of us will ever get to a Veyron is drooling over it on Top Gear. It's all about perspective here people.  Three Veyrons. Say it out loud – Three. Veyrons.  So what makes this watch worth $5.12mil?  For starters, it is the most complicated watch on the planet with 33 complications. Essentially, it requires a degree in mechanical engineering to understand, but suffice it to say it has everything but the kitchen sink. It also took more time to design than you spent in college (including those extra years "studying" chemistry).
It's emblazoned with the Tiffany & Co. name, so you know it's gonna be expensive.  Compared to the rest of the watches on this list though, it's actually pretty cheap. Well, you know, if two-hundred grand can ever be considered cheap. You're getting the Patek and the Tiffany names, what else could you want? The ability to time two events that start simultaneously but end at different times – you didn't think those fancy blue hands were just for show did you?
Rounding out the Patek trinity is the Ref 5016P (The P stands for platinum, duh). This watch is the second most complicated wristwatch (the first one was a pocket watch so it doesn't count) that Patek has produced. The problem with watches of this caliber the need for adjustments, but Patek has an app for that. If you keep this moon-phase, perpetual calendar, retrograde behemoth running continuously it won't need adjusting until 2100.  That's something your children's children's children will most certainly appreciate.
This watch was originally designed by Breguet himself and has more pieces (823) than an iPhone.  It's self winding, has a minute repeater, perpetual calendar, equation of time, jumping hour, power reserve indicator, and a bimetallic thermometer – everything but MMS messaging.  It took forty-four years for the original to be constructed and Breguet and Marie Antoinette both died before it was completed.  Ultimately, the original watch disappeared, never to be seen again. When Swatch acquired Breguet, an Indiana Jones style quest for the watch began.  When they came up short they reproduced the watch using only the images of the original. Breguet has received offers in the eight digit range, but still refuse to sell.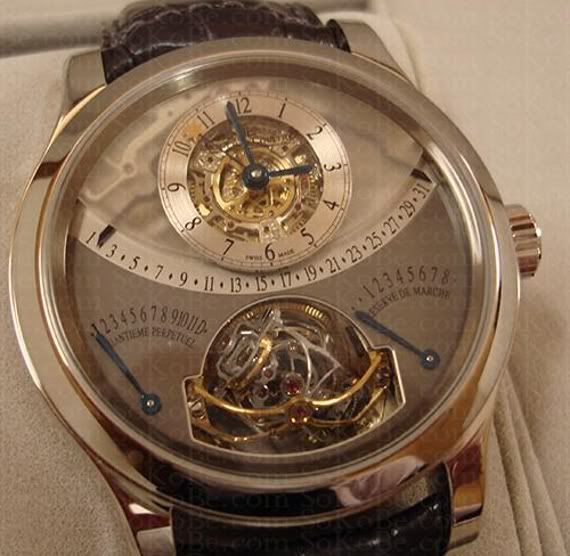 This watch is clearly complicated, but it has a feature some of the others don't, a tourbillon. What's a tourbillon? A wrist-mounted anti-gravity device.  Tourbillons (in the most basic terms) prevent gravity from adversely affecting accuracy. Normal tourbillons only rock one-axis anti-gravity, this tourbillon rocks two.  No word yet on when the third and fourth axis will be integrated.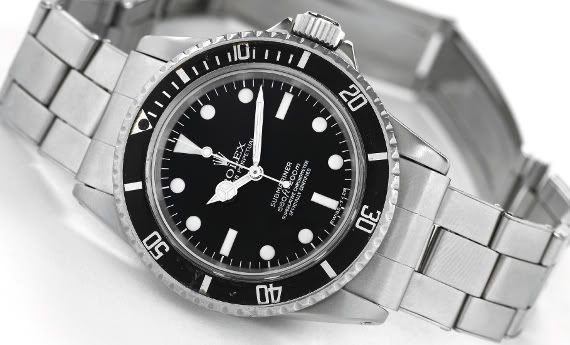 At some point in time, everyone has held, worn, or owned a Rolex Submariner.  This one is special because it was held, worn, and owned by the one and only Steve McQueen. That's right, the "King of Cool" owned this particular submersible, self-winding, stainless steel oyster bracelet Rolex. You're getting time, Rolex, and bona fide badassery.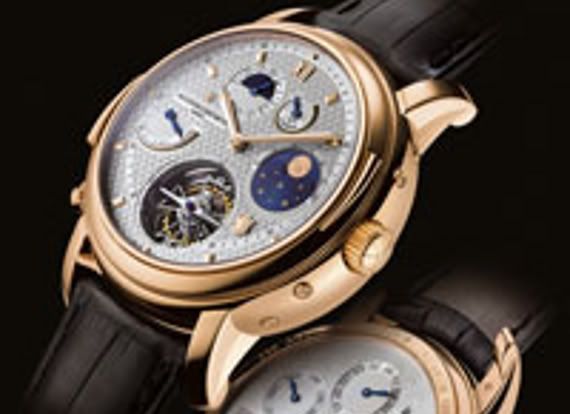 Vacheron is the oldest watch manufacturer still in existence since its inception in 1755.  250+ years of history allows them to make watches that eclipse most others.  The Tour de l'Ile has tourbillon, two faces, and more complications and parts than even the Breguet Marie Antoinette (hopefully without the beheading) making it the most complicated serial wrist watch ever made. It's worth JUST shy of a Veyron… unless you buy used.
Audemars Piquet (that's where the AP comes from obviously) does it again with the Royal Oak Grande Complication. The Grande Complication is another watch that has a perpetual calendar accurate until long after you will no longer be alive.  It has a lot of the same complications as the other watches (minute repeater, split seconds chronograph, aforementioned perpetual calendar) but presents them in a way that doesn't require a thousand page instruction manual just to read. Real men don't use instruction manuals.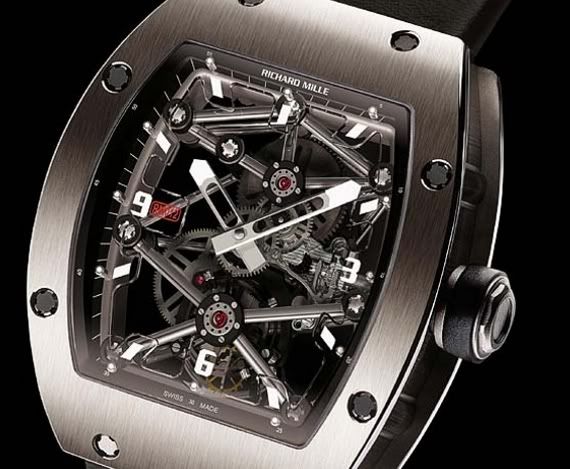 Look at it. It looks like a Rube Goldberg machine had sex with the Gugenheim and the offspring was skeletonized.  Quite a few of these watches have modern elements, but none of them have the modern design that this watch does.  Made of aluminum, titanium, and awesome it would be the perfect compliment for the new clear hood you just put on the Ferrari.
It may be crazy, but this watch seems like holds some deep, dark, historical secret that only Nicolas Cage can uncover.  But that may just be the three Jacks "hammering the bells to separate the quarters from the minutes." Sure, it's more expensive than a Ferrari, but something about this watch just seems a lot less complicated. Since when did you just want to tell time with your watch?
This is the point in the movie after the credits roll where you get that wicked cameo that's sole purpose is to say thanks to an underappreciated celebrity. In this case, the star is none other than Ben Clymer of
In case you haven't heard of Hodinkee, it's a daily collection of the most interesting and rare watches around the world. Think Cool Material specifically geared towards vintage and interesting time pieces.