The world's best airport in 2010 is Changi in Singapore, according to the Skytrax World Airport Awards that were announced on March 23 at a ceremony in Brussels, Belgium, as part of the Passenger Terminal Expo.
Changi Airport was named Airport of the Year 2010. It also won the titles for Best Airport Leisure Amenities and Best Airport Asia.
North American airports did not fare as well, and there were only two in the top 25: Vancouver (No. 11) and San Francisco (No. 20). Narita in Tokyo came in at No. 17 and London Heathrow at No. 21.
To know more about the world's 10 best airports, read on . . .
Changi Airport, Singapore: Rank 1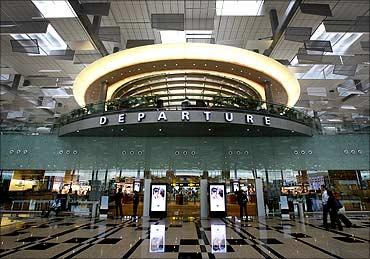 Image: Passengers walk towards their departure gates in the newly opened Terminal 3 at Singapore's Changi Airport.
Photographs: Vivek Prakash/Reuters
Recognised as one of the best airports in the world, it has 80 airlines serving 200 cities in 60 countries. The airport now has an annual handling capacity of more than 70 million passengers.
Changi Airport handles more than 4,500 arrivals and departures every week, and over 37 million passengers a year.
With over 40,000 square meters of commercial space, Changi Airport also has Singapore's largest shopping location.
Incheon International Airport, Seoul: Rank 2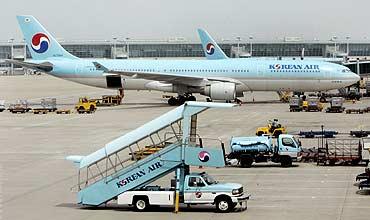 Image: South Korea's largest carrier Korean Air's planes are parked at Incheon International Airport.
Photographs: Jo Yong-Hak/Reuters
The Incheon International Airport at Seoul airport has unique luxury features such as a golf course, spa, private sleeping rooms, a casino, and indoor gardens.
Incheon is the main hub for Korean Air, Asiana Airlines and Polar Air Cargo. It is connected to the mainland by Incheon International Airport Expressway (Expressway 130), a part of which is Yeongjong Bridge.
The airport is served by frequent bus service from all parts of South Korea as well as by traditional ferry service between Yeongjong pier and Incheon.
Airport limousines operate around the clock from Seoul to Incheon, and several backup highway buses escort people from places within and outside Seoul.
The airport opened for business in early 2001, replacing the older Gimpo International Airport, which now serves only domestic destinations.
Hong Kong International Airport: Rank 3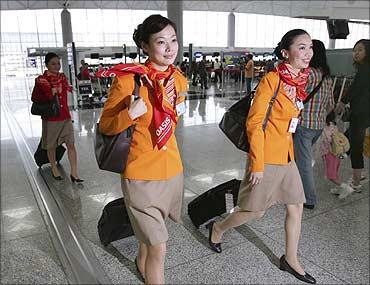 Image: Oasis Hong Kong flight attendants prepare to board a plane at the Hong Kong International Airport.
Photographs: Paul Yeung/Reuters
The Hong Kong International Airport has about 90 airlines operating flights to around 150 destinations worldwide. HKIA also operates one of the world's largest passenger terminal buildings.
Direct ferry services are available from the airport to various destinations throughout the Pearl River Delta.
The airport saw a passenger movement of 46.1 million in 2009. The airport offers a great shopping and dining experience.
Munich Airport: Rank 4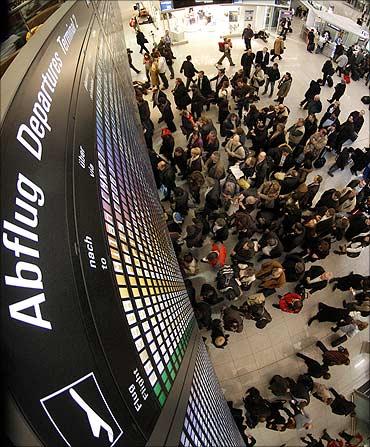 Image: Passengers stand under a flight information display board at Munich Airport.
Photographs: Michael Dalder/Reuters
Munich Franz Josef Strauss Airport is the second busiest airport in Germany in terms of passenger traffic (34.73 million in 2008), behind Frankfurt Airport.
Most of the airport's facilities are located in the area between the two runways.
The approach road and railway divide the west part into a southern half, which contains cargo and maintenance facilities and a northern half, which contains mostly administrative buildings, a holiday long-term parking lot and the visitors' centre.
The Munich Airport Centre is a shopping, business and recreation area that connects the two terminals.
Airport authorities cater to visitors and sight-seers by creating a 'Visitors Park' that includes a 'Visitors Hill' from which a good view can be obtained of the westerly aircraft apron and Terminal 1.
Kuala Lumpur Airport: Rank 5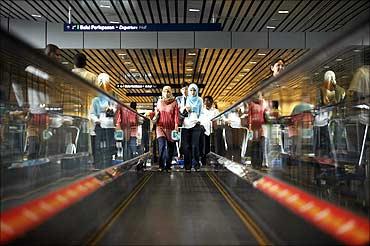 Image: Women use the travelator at Kuala Lumpur airport.
Photographs: Bazuki Muhammad/Reuters
Kuala Lumpur International Airport is one of southeast Asia's major aviation hubs.
It is also Malaysia's main international airport.
The airport is designed to handle up to 100 million passengers per year.
The runways and buildings cover an area of 100 square kilometres. With its 75 ramp stands, it is capable of handling 120 aircraft movements at a time. There are 216 check-in counters at the airport.
Zurich Airport: Rank 6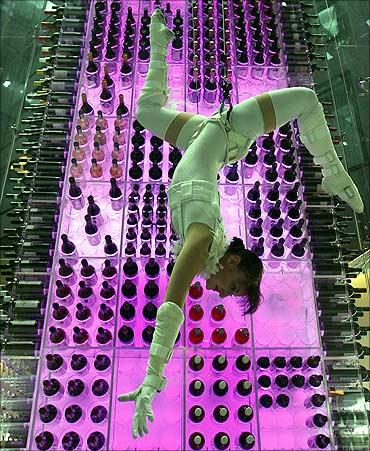 Image: A so-called wine angel poses as she is suspended by steel ropes at a hotel in Zurich Airport.
Photographs: Arnd Wiegmann/Reuters
Zurich Airport is Switzerland's largest international flight gateway and th ehub for Swiss airlines.
The airport lost a lot of traffic when Swissair shut down its operations. Since Lufthansa took over its successor, Swiss International Air Lines, traffic has started growing again.
Zurich Airport handled 22.1 million passengers in 2008. Skyguide is responsible for all air traffic control at the Zurich airport.
Amsterdam Airport: Rank 7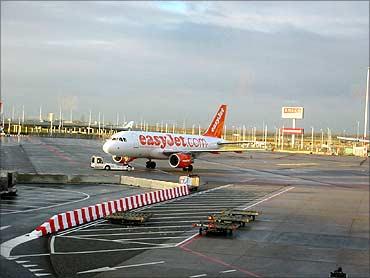 Image: Amsterdam Airport.
Amsterdam airport, Schiphol, is the Netherlands' main international airport.
Schiphol has large shopping areas as a source of revenue and as an additional attraction for passengers.
Schiphol Plaza is the shopping centre before customs, hence it is used by air travellers and non-travelling visitors.
The Rijksmuseum operates an annex at the airport, offering a small overview of both classical and contemporary art. Admission to the exhibits is free.
Schiphol has its own mortuary, where the dead can be handled and kept before departure or after arrival. Since October 2006, people can also get married at Schiphol.
For aviation enthusiasts, Amsterdam Airport Schiphol has a large rooftop viewing area, called the Panoramaterras.
Beijing Capital International Airport: Rank 8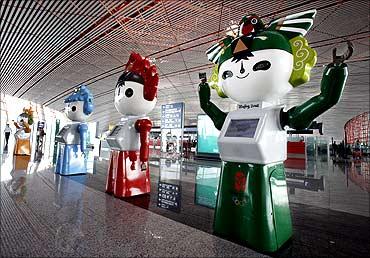 Image: Olympic 'Fuwa' mascots parade at the new Beijing Capital International Airport July 23, 2008.
Photographs: Claro Cortes IV/Reuters
The Beijing Capital International Airport is the largest and busiest airport in China.
In 2009, it won the Cond Nast Traveler magazine's World's Best Airport Award for factors such as cleanness, speed of security/immigration clearance and luggage handling.
More than 5,000 scheduled flights are available to 88 cities in China and 69 cities abroad.
The enormous Terminal 3 was added in 2008. This is the second largest airport terminal in the world after Dubai International Airport's Terminal 3, and the third largest building in the world by area.
The T3 food-service area offers the best dining experience at the same prices as in central Beijing.
Auckland Airport: Rank 9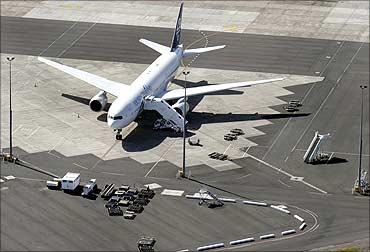 Image: An Air New Zealand aircraft sits on the apron at Auckland International Airport.
Photographs: Nigel Marple/Reuters
Auckland Airport is one of New Zealand's most important infrastructure assets, providing thousands of jobs for the region and is the country's second largest cargo 'port' by value, contributing around $14 billion to the economy and catering to over four million visitors each year.
The airport handles 5 15 million passengers annually.
Bangkok Airport: Rank 10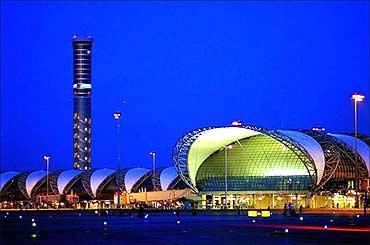 Image: Bangkok Airport.
Suvarnabhumi Airport, also known as (New) Bangkok International Airport, is an international airport serving Bangkok, Thailand.
The airport is currently the main hub for Thai Airways International, Bangkok Airways, Orient Thai Airlines and Thai AirAsia.
Designed by Helmut Jahn of Murphy/Jahn Architects, this airport has the world's tallest control tower and the world's third largest single-building airport terminal.
Suvarnabhumi is one of the busiest airports in Asia and is also a major air cargo hub.
Source : Rediff – Business Desk